| | |
| --- | --- |
| | Wet Process Heating and Cooling Equipment |
Thermal Overload Protection
Protector 1, 2 and 3 Series
THE PROTECTOR 1 SERIES

The Protector 1 overtemperature control system utilizes a heat sensitive protector to detect overheat conditions. The protector, placed inside a thermowell, positioned in contact with the heater sheath, will cut power to the heater in the event of low liquid level.

THE PROTECTOR 2 AND 3 SERIES

The Protector 2 and Protector 3 systems provide the same reliable over temperature protection as the Protector 1; however, the control systems feature a heat sensing thermostat. Should the tank's liquid level drop to a preset overheat point, the thermostat will trip and an audible alarm will sound, cutting power to the heater. This eliminates dangerous operating conditions. After filling the tank, the immersion heater can be quickly made operational by pushing the reset button on the control to restore power. Protector 3 is designed for flexible lead or high temperature fluoropolymer (PTFE) heater applications only. DO NOT wire P2 or P3 devices directly to power or heater load as a dangerous short circuit will result with irreparable damage to the heater. Please refer to wiring diagrams for proper installation.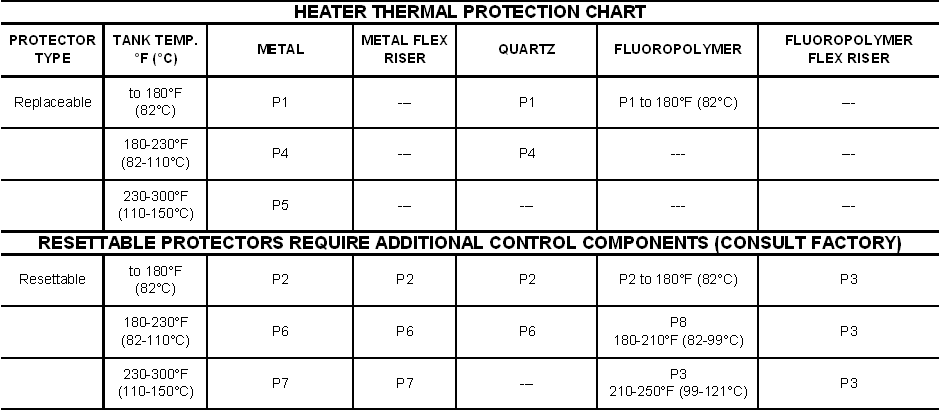 Order replacement protectors by item number (below). P3 option not available on 8 and 9 kW elements. Lowest temperature replaceable style Protector standard unless otherwise designated.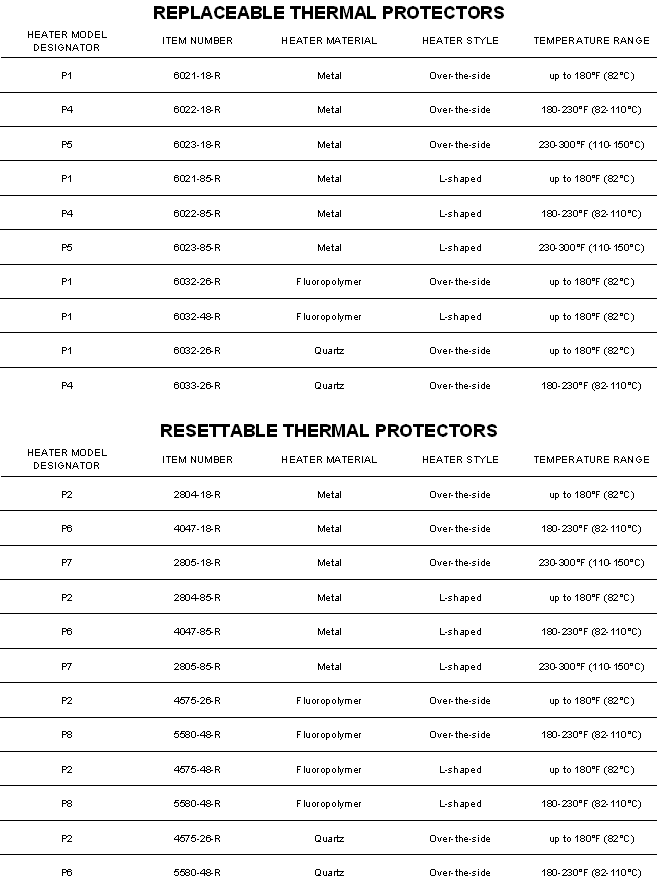 VOLTAGES AVAILABLE (MOST HEATERS AND CONTROLS)

Voltages are designated in Process Technology model numbers as follows:

120 volt = 1
240 volt = 2


380 volt = 3
480 volt = 4
415 volt = 5
600 volt = 6
400 volt = 7
208 volt = 8
220 volt = 9
200 volt = 0

Specify single or three phase when ordering. Consult factory for other voltages.
---
[ Home | Search our Site | Industrial Products | Aquaculture Products ]
[ High Purity Products | Product Specials | Company Profile ]
[ Trade Shows | What's New | Employment Opportunities ]
[ Troubleshooting Guide | PDF Files | Contact Us ]
Copyright © 2012 Process Technology
info@process-technology.com